Welcome to Town Loch
Town Loch is the National Training Site and home of Waterski & Wakeboard Scotland.
Set within the beautiful surroundings of Townhill Country Park, less than 5 minutes from Dunfermline, Town Loch offers unrivalled facilities and is amongst the best in the UK.
During your visit, you will be carefully looked after by our friendly and experienced coaches to ensure you move at a pace that is comfortable for you. Whether it's wakeboarding, waterskiing, wake surfing or a ringo ride – we warmly welcome all ages and abilities!
Activities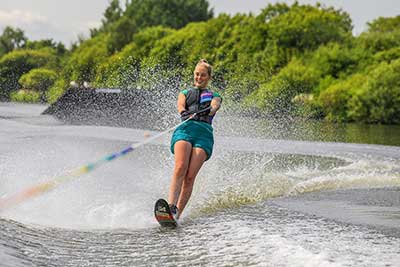 Waterskiing
Waterskiing is available to all ages and abilities. For those who are new to the sport, we will move at a pace which is comfortable for you – from getting you confident on the water right up to competition leve...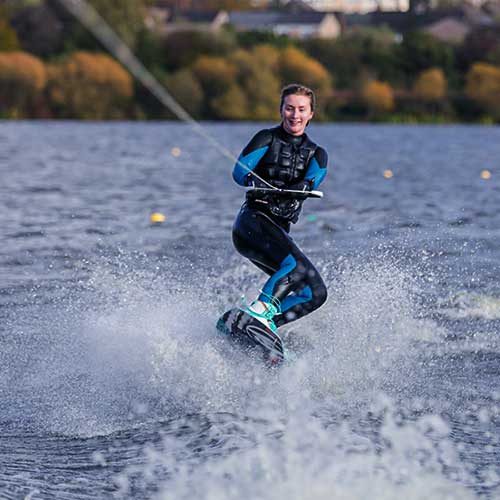 Wakeboarding
Wakeboarding is available to all ages and abilities. For those who are new to the sport, we will move at a pace which is comfortable for you – from getting you confident on the water right up to competition lev...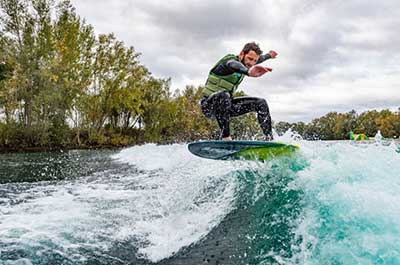 Wakesurfing
Have fun riding the boat's wake – similar to surfing! After getting up on the wake using a tow rope, drop the rope when you feel comfortable and enjoy surfing the wake waves!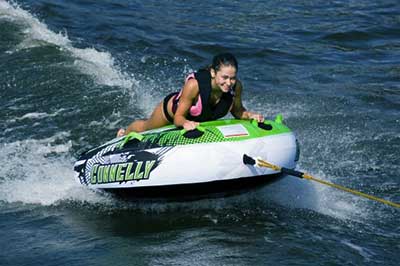 Inflatable 'Ringo' Rides
Inflatable 'Ringo' rides offer a simple way to enjoy getting on the water in a safe and controlled environment.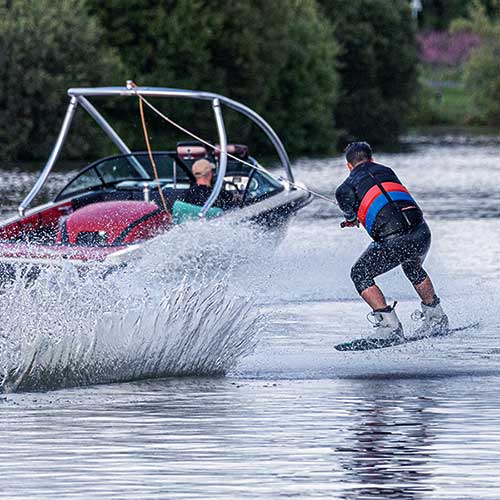 Boat Hire / Activities
Booking with friends? Why not hire a boat for an hour for up to 6 people and enjoy whichever activities you fancy – wake surfing, wakeboarding, waterskiing or ringo rides! All equipment included.
Boat Driving Lesson
Would you like to learn how to safely drive a waterski / wakeboard boat, or maybe you are looking for refresher lessons or are working towards a BWSW Ski Boat Driver qualification? We can provide you with a les...
Facilities
Premier Location
We are just 5 minutes from the centre of Dunfermline and easily accessible from Edinburgh, Glasgow, or Stirling.
Premier Location
Top Equipment
Our up-to-date fleet of boats is supported by high-quality equipment and clothing to ensure your visit is memorable.
Top Equipment
Great Amenities
The shoreside facilities at Town Loch are among the best in the UK, enhanced by our fantastic viewing area and accompanying café.
Great Amenities
Bookings & Vouchers
Bookings
Secure your next unforgettable experience by booking a Town Loch session online now!
Bookings
Gift Vouchers
Give the gift of a Town Loch experience with our range of gift vouchers available now!
Gift Vouchers
Testimonials
Auntie & Nephew time
I was given a wakeboarding taster session as a Christmas present and just got round to using it. It was great, we were each given around 15mins on the water and the boat driver Andrew was fab. My partner was able to join us on the boat to laugh and encourage us both. Will definitely consider going back!
Clair
Super friendly instructors
Fantastic centre, close to Dunfermline. Great instructors who give clear, easy to understand guidance. Andrew was an absolute star, so friendly and relaxed with our teenage grandchildren ensuring they had a fun time. Weather forced a break off the water, centre staff kept us updated and Andrew had them out on the water as soon as the all clear was given. The 2 hour session was spread over 3/4 hours due to the weather but cannot praise the centre enough for the care and attention.
WRM
Great sport!
I've been waterskiing at townhill loch now for around 4-5 years, it's one of my favourite sports now, the coaches there are amazing and you can tell they have a passion for the sport and want to share the passion with other people wanting to ski/wakeboard, the coaches have a lot of experience in the sport themselves which really helps when they're coaching you on the sport. The Ringo rides at the loch are also extremely fun and I'd 100% recommend it
Aidan
Great place to visit
Townhill waterski/wakeboard centres brilliant... I've been going as much as I can since it opened for the season, I've become a very keen wakeboarder through going here, the Center has a very friendly vibe, Always been made to feel very welcome any time I go, even when rocking up 20 mins before closing on a Sunday night
Mcbee
Totes Amazeballs........
We booked with WWS for a group event last weekend (17 of us) and the facilities and Staff were amazing, great location and great fun from Wakeboarding to the Ringos (still laughing now). Big thank you to Kris, Zac and Charlie for looking after us all so well
SAJ