Our Facilities
Town Loch offers unrivalled facilities and is amongst the best waterski and wakeboard sites in the UK.
Premier Location
We are just 5 minutes from the centre of Dunfermline and easily accessible from Edinburgh, Glasgow, or Stirling.
Town Loch is set within in the beautiful surroundings of Town Hill Country Park where you can also take a walk on the many paths that link up Town Loch, the Village Park and Townhill Wood.
By Car: Nearby the main road network and with onsite parking Town Loch is easily accessible by car. Just search Google or Apple maps for directions.
By Public Transport: Dunfermline Queen Margaret is the closest station, leaving approximately a 30 min walk to the centre. Alternatively, the 3/3A bus service to Townhill leaves from Reid Street, just 5 mins walk from the station and stops at the entrance to the country park.
Top Equipment
Our up-to-date fleet of boats is supported by high-quality equipment and clothing to ensure your visit is memorable.
Our two school ski boats – a Malibu React and Ski Nautique 196 – provide the perfect platform for those giving our sports a try for the first time and for our regular participants developing their waterskiing skills.
Our Super Air Nautique 210 is the ideal boat for those looking to take their wakeboarding skills to the next level and thanks to its large capacity it's great for getting together with a group of friends or family and spending the afternoon on the water with one of our enthusiastic staff.
Also available is a top of the range Ski Nautique 200 which allows our experienced participants to complete their training behind a competition standard boat.
We have a range of modern waterski and wakeboard equipment available and a selection of wetsuits and life jackets suitable for all ages and abilities.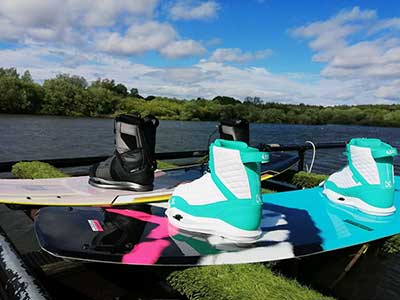 Great Amenities
The shoreside facilities at Town Loch are among the best in the UK, enhanced by our fantastic viewing area and accompanying café.
We have excellent heated changing facilities with ample room even on a busy day, warm cubicle showers and lockers to store your belongings.
Our open and airy viewing area has seating both at tables, to enjoy lunch or a snack, and sofas for a comfortable spot to watch friends and family enjoy their time on the water.
If you're looking for a lunch or a snack before or after your session then the café also contained within the building with its great range of coffee, cakes and food is the place to go.