Wakesurfing
Have fun riding the boat's wake – similar to surfing! After getting up on the wake using a tow rope, drop the rope when you feel comfortable and enjoy surfing the wake waves!
Town Loch is typically open to Non-Members from 1st April 2023 to 30th September 2023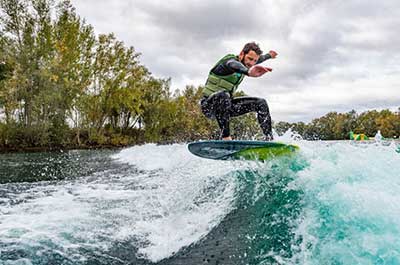 Wakesurfing Single Session
12 minute session
Wakesurfing is a water sport, in which the rider follows behind a boat, riding the boat's wake without being directly pulled by the boat. Initially we'll get you up on the wake using a tow rope, and when you are feeling comfortable, you can drop the rope and ride the wave's peak in a way similar to traditional surfing.
All you need to bring is your swimsuit and towel and we will provide the rest.
What's Included:
1-to-1 coaching from one of our fully qualified, experienced UKCC2 coaches at a pace that suits you.
Space for family or friends to observe from the boat.
Wetsuit, floatation vest & waterski/wakeboard hire are all included in the price.
Showering facilities.
Adult
£35.00
(per session)
Junior U18
£28.00
(per session)
Student/+65
£29.75
(per session)
Join our Mailing List
Sign up to receive the latest news and special offers for our National Training Site.
SIGN UP