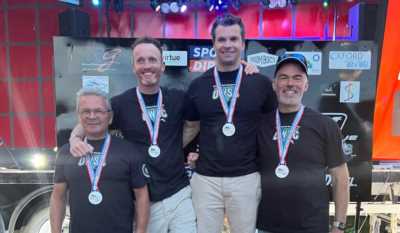 28 August 2023
Scottish Success at British National Waterski Championships
It was a successful trip South for the 8 Scottish participants in the British National Waterski Championships, which took place between Thursday, 24 and Sunday, 27 August, at the Oxford Wakeboard & Ski Club.
Scottish involvement in the event began in the British Waterski Friends of Tournament Youth Festival, which aimed to provide skiers under 18 years of age with insight into the competitive environment of waterskiing in a fun and informal way. This fantastic event would not have been possible without the hard work of a small but dedicated group of individuals committed to developing the future of British waterskiing. Three developing Scottish skiers participated, all rewarded for their efforts by coming home with medals. Congratulations to Ellie Morrison (15), Lorcan Morrison (12) and Cilean Morrison (10).
"It's exciting to see more of our members heading to major events like the British National Waterski Championships. This year, our participants ranged from 10 to 77 years old, proving that our sport is for all ages!"
Calum Reid, Waterski & Wakeboard Scotland COO
Following the conclusion of the Youth Festival, the main event got underway, with athletes competing in the three disciplines of slalom, jump and trick waterskiing over the following three days. Scotland was well represented from a first-time competitor, Alisdair Roger, who achieved his first-ever rankings score at a major event, to our country's more experienced athletes making it to the finals in their specialist events.
Over the course of the weekend, medals were won by Oliver Jessop – Gold (35+ Men's Slalom), Chris Heron – Silver (35+ Men's Slalom), Kevin Lochhead – Bronze (55+ Men's Slalom) and Matthew Mills – Silver (75+ Men's Slalom).
"It's great to see Scottish athletes back on the podium in this amazing sport and the level of talent and participation in waterskiing across Great Britain growing. I hope we can build on our second year of success as some of us fly to France to compete in the IWWF 35+ European & Africa Championships, and we start to see more new faces participating in our sport in the months and years to come."
Chris Heron, Head Coach of Waterski & Wakeboard Scotland's Town Loch National Training Site
If you would like to try our waterskiing or would like more information, please visit: https://www.wws.org.uk/